Meet the team!

Head Professional
Danny Vera
Danny started playing Golf with friends when he was 15 years old. Once he took it up he quickly got the bug and was off scratch and club champion At St Michaels within 3 years. He later moved to The Lakes golf club where he added another two Championships and would later go on to represent NSW for the following 5 years at both Junior and Senior Level. The progression into Professional ranks followed with mixed results and although it was thoroughly enjoyed he would ultimately step away from the tour.
Playing on the Japanese tour in 2006 was a highlight and a great time as a golf professional.
Danny completed his apprenticeship at Terrey Hills CC where he was voted Australian Golf Digest and NSW Trainee of the year on two occasions.
Over the years Danny's Coaching has evolved and although he loves nothing better than to study and Video many swings he feels that the majority of members he helps love the Simpleness and basic approach to their techniques.
Danny also feels that his past playing experience and mental approach to playing is where members and guests would get his real value. This is why he loves nothing better than the variety of shots that playing lessons can give the students.
The Juniors at The Golf club have been a real passion of Danny's and he has had some great success starting the MyGOLF clinics where many of the kids are now off single figures and have gone on to represent the club at various levels
Danny would love to help you develop your golf.
–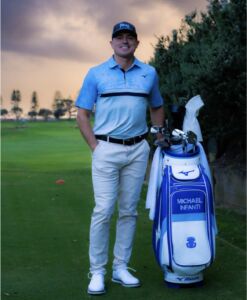 PGA Coach
Michael Infanti
Michael is a AA PGA Professional and has dedicated himself to Coaching for the past 8 years as a member of the PGA of Australia. Michael, having played on the Australasian tour and Coaches players at an elite level and works hard to put his method into a practical sense.
As a golf coach, the time at the academy is split between developing programs for individual lessons, golf clinics, playing lessons, junior development, coaching elite players and playing in Corporate events and playing tournaments himself. This has allowed Michael to have a broad range of players from beginners to advanced clients.
METHEDOLOGY
Michael's Methodology is "Simplicity is Key". To simplify the learning process in what can be at times a complex game and can prove to help Golfers of all levels. Michael can identify swing errors and help make improvements no matter what the ability.
"Making it easy for students to understand is my main focus and in doing so this breeds confidence into the golf swing and allows players to execute on the golf course with determination to better their score, hit a longer drive or hole that winning putt".
Practicing "Quality over Quantity" is another piece of the puzzle to get the gains and improvements we are after. As Time is an issue working on the right things such as Grip, Routine, Short Pitch Shots, etc. Also having fun with it, for example, Try different golf shots (5 Drivers- 5 Pitching wedges).
STRENGTHS
*Coaching Golfers Of All Levels
*Short Game Specialist
*Coaching Elite Players
Contact Michael for lessons e-mail
minfanti@pgamember.org.au