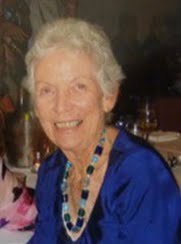 Betty is a very important part of the Twight story. The name Twight links the very beginning of the Club to the present. As Betty approaches her 50th year of membership, aware of the story above we can look a little further at how it all began for Betty in Perth, and later at Long Reef Golf Club.
Betty was born in Perth in April 1929. Along with her parents and brother she lived in Cottesloe. Betty comes from pioneering stock. Her maiden name is Boddington, and her father is a descendant of the Boddingtons who gave their name to the town. Boddington is about 100 kms away from Perth and the Boddingtons can be traced back there to 1805. Her father James Thomas was born in 1898 and although born in the country grew up in Perth. His father was a Stockbroker. From a young child James' ambition was to be an Electrical Engineer, but having attended the Modern School in Perth all ambitions were put aside when war broke out and he joined the army and as an 18 year old was sent to France in 1916.
He was sent to Villers-bretonneux. Like so many he was gassed in the trenches. He was fortunate in some way to convalesce in South Africa in a home of a Doctor, who established a health regime for him. There was a necessity to avoid smokey places and of course never to smoke for the rest of his life. He was also told to eat onions and oranges and walk a lot. He followed this advice, but always had a lung condition.
Back in Perth he was offered a job with an Electrical Company, which he accepted and he eventually bought out. He is listed and featured in the Book 'Men In Western Australia' and is described as a pioneer in the mining industry (See photo and collage below.)
Elizabeth May Sadlier, (known as May), Betty's mother was born in Northam, and for a reason Betty does not know, she was born in a tent. The family came to Perth when the Tram line was being introduced and her father trained as a Tram driver. The family story always highlights the fact that he was the first driver and had a No.1 on his cap.
Elizabeth was a tailoress, and Betty benefited from this skill, but did not actually learn to sew herself.  James and May Sadlier were married in 1923.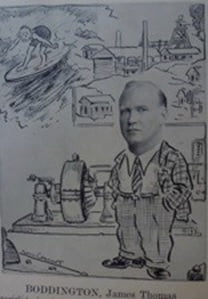 Betty's father James Boddington
Betty says that her father would close the factory for six weeks over summer and they would set off for some holiday adventures. The 1939 trip sounds a real adventure. They made the children's first trip to the East Coast by car. There was no road to Adelaide, at the time, just a track. Crossing the Nullarbor, they met a group of Aborigines who in broken English tried to explain that it was a bad road ahead, but the family kept going. At first they would spread sheets on the ground to sleep, but a couple of huge spiders changed their minds and forced them in to the car at night for the rest of the journey! The journey which included going via Adelaide took about a week. There was a road after Adelaide. To keep them amused Betty and brother James were allowed in stand on the cars running boards and hang on as they moved along.
They spent a week in Bondi and another in Manly, before driving all the way back to Perth. At one point there were bad Bush fires ahead but they were allowed to continue if they passed on a message to the next community. Which they did.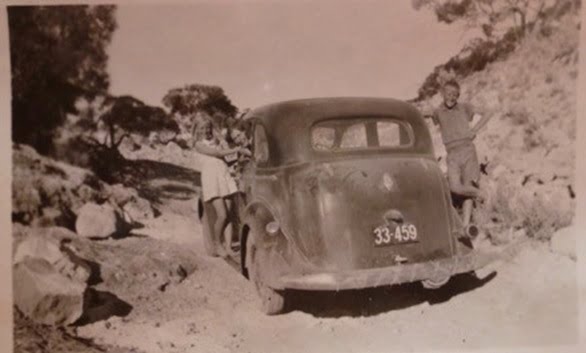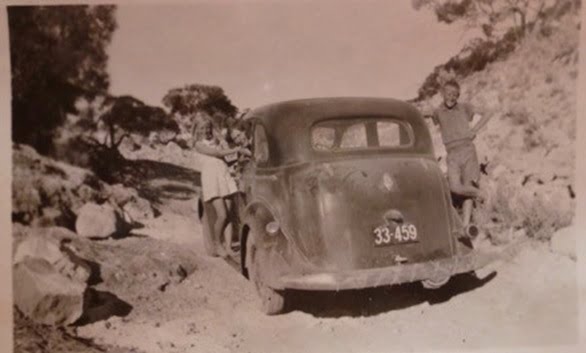 Crossing the Nullarbor 'track' -starting the Madura Pass. Christmas 1939 Betty and her brother James and mother May inside the car.
Betty at her dance school
Betty went to school near Subiaco. She disliked school and didn't like conforming and left at the first chance. This led to her enrolment at the Hartills Commercial College and as mentioned above she worked for a stock agency before heading to Sydney on that working holiday when she met Dick.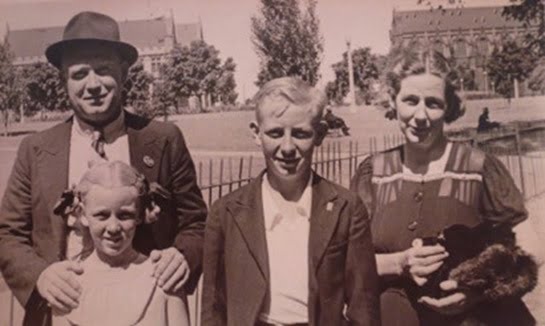 The Boddington family – James, Betty, Jim and May.
More than anything Betty loved to dance and took Ballroom and Jive lessons. She loved to go to all the dances and remembers fondly the dances that were held on the roof of the Cottesloe Surf Club. She might go dancing two or three times a week.
Betty went swimming and also played Netball as a youngster, but there were no golfing experiences in W.A. Dick meanwhile was attending dances in Dee Why and Manly and totally committed to the Surf Club. After marrying Dick she applied her secretarial skills to running Dick's business side of things. As seen above Betty married into a family of passionate Collaroy Surf Club members. From the first Betty was welcomed into an established group of friends, nearly all members of the Surf Club. There were also tennis nights to come with the Gunthers, Cranfields, and Barbara Malady, and Sunday afternoon friendly golf sessions.
Betty's golfing career began at the North Narrabeen RSL golf 'course'. They had a few holes up the hill! On a Sunday a group of friends would pile into the back of Dick's work pantechnicon (truck) and head for Narrabeen or Palm Beach. Dick had played a bit of golf at Bayview, so was not overly impressed with the standard of his beginner golfer friends.
Betty's golfing career started casually like this in the mid 50's.
It was in 1968 when a surf Club friend and Long Reef golfer, Doreen Anderson produced the LRGC application forms and persuaded Betty to join. Not to be outdone Dick joined at the same time. Betty said he could as long as he didn't go onto the committee! He held out for a while, but was on the Long Reef Club committee by 1974. He was asked to stand because of his ability to relate well to players, particularly the young ones, something he had developed at the Surf Club where he was still a very active member.
If asked Betty will say – but I haven't achieved anything at the Club. Just being a loyal, friendly, enthusiastic, regular member is surely enough, but our records show that there is even more than that on the course. A hole –in-one is mentioned above, but let's add to that in the 70's with the C-Grade Premiership win, the LGU Bronze Medal, the Medal Winners Cup and the Bronze winner of the International Bowl. Betty did get to play golf in WA during holidays back home. In August 1999 Betty had a mention in the Bundaberg Newsmail, reporting from the Innes Park Golf Club, that a certain Betty Twight a visitor from NSW, had managed a hole- in- one on the 7th hole! Betty's lowest handicap was 24 and now in this decade continues to be a formidable consistent player. With playing twin and great friend Nancy Hohnen, they set a standard most younger folk could only admire. The success in Team events with Margaret Mulllins and Carol Cummins are for all to celebrate.
There were no Beginners groups when Betty joined, but Betty remembers Dot Leonard playing with new members and showing them the ropes, in a pleasant but firm way! Doreen helped her get her cards in and Betty started on a 36 handicap as one did at that time.
Betty describes herself as a non-competitive person, and was not concerned about entering the Championships or playing Pennants. She describes herself as a non-committee type person too. Dick did enough of that for both of them perhaps! She admires so many of the Committee members she has met over the years and appreciates all the good work they have done.
Betty has always loved being on the course, with all the changes she has seen, and marvels at what the Greenkeepers achieve today, with Peter Donkers and his team. It is the Social side of things she enjoys the most and always has. She and Dick loved the Sunday mixed competitions, and they played very regularly until Dick's retirement from golf. They would play with Bruce and Win Withers, Vic and Patty Cropper, Alan and Nancye Hohnen and Doreen and George Anderson. (He was a member of Manly.) The Twights and Playfairs had their own private annual competition and the winner had a wooden plate engraved with small shields every year. Betty still has the shield and it has recently been on loan to the LR Archives for display. Betty says that the Croppers worked hard to promote mixed Sunday golf.
Betty played on Thursdays and Sundays for years. The Sunday results are for all to see in the Club ledgers week by week. On some Fridays they would come and play a few hole of golf together with their friends and then come into the Club and play each other at Billiards. (Dick had been a driving force in creating the Billiard room as a facility for the "young' ones.) Betty remembers the Bowling Green that had been created in 1950, to encourage older retiring golfers to stay in the Club, but it was to be removed after a couple of years after Betty joined.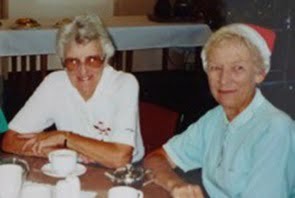 Nancye Hohnen and Betty-Christmas time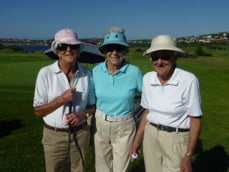 Tibby, Betty and Nancye
Betty remembers fun times spent at parties at the Manly North Head Barracks with the likes of Des Lofthouse (all time super LRGC Champion and ex-army) with invites made by the Gilmers.
Back on the course, Betty says that the water has made it a little harder over the years. She finds the 5th and 15th hole a challenge and every week plans to put her tee shot on to the 13th Green, but is usually disappointed. In the Club House, the use of it as a wedding venue is one of the biggest changes, and of course there have been many changes to the layout of the clubhouse over her time.
Betty's membership has been continuous over the 50-year period and she now plays 9 holes on Tuesdays and 18 on Thursdays. Betty missed a few games when she and Dick toured Australia for six months, but kept her membership going. Betty still has lessons from time to time and still strives to play well, as up the middle of a hole she goes. She finds herself now with the longest serving female membership of someone still playing 18 holes. With a few
years to go there is every likelihood Betty will be the longest serving and the eldest active member.
The Twight Tea House was created over one hundred years ago, by Betty's grandparents-in law the Twights have been honoured for their contribution to the development of Collaroy in a variety of ways. Betty has now been invited to be the Patron of the Collaroy Surf Club,  an honour she delightedly accepted. Betty has been an excellent Long Reef club member for over half its life, and has seen so many changes from hand written ledgers to computers, and handicap peg-boards to rolling TV screens, yet enjoys it all as much as ever. No motorised carts for Betty, she is out there, walking the course. Betty helps keep previous members and friends who live now at The War Vets close by to her, updated on the Golf Club's news.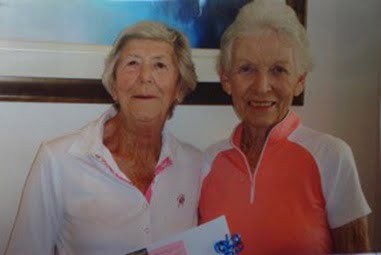 Tibby Playfair and Betty Twight – winning Super Vets.
With four grandchildren and two great grandchildren the family name is in good hands, and in their Grandmother and Great Grandmother they have a wonderful example of someone living life graciously and to the full, with what ever tests it has sent.
To Quote Betty in February 2018
"I enjoy my golf on Tuesdays and Thursdays and I have never thought of retiring."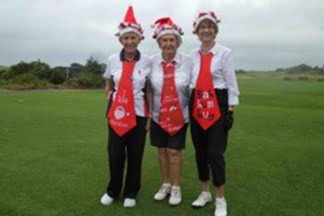 Christmas Fun Day – 2016 L- R Betty Twight, Shirley Loveridge and Carol Cummins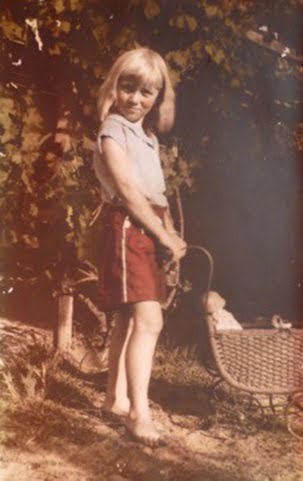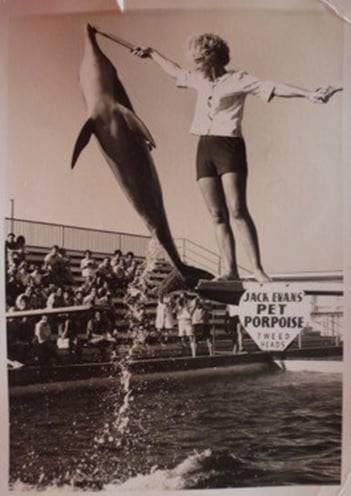 A holiday photo at Tweed Heads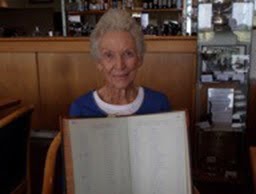 2018 -50 years at the Club – From the ledger to the computer